MCX Device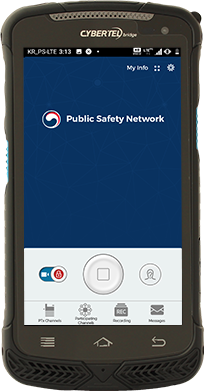 VM65PS

Smartphone-type handheld device for mission critical situations

VM65R

Smartphone-type handheld device for railway systems

VM65C

Dual USIM handheld device for multi-communication network

VM65A

2D barcode scanner for logistics and facility management

VM65M

Smart-Ship handheld device for naval battleships

VM65E

Smartphone-type handheld device for air force TDD-LTE system
All required MCX applications are pre-loaded and pre-licensed in the device firmware for out-of-box use.
Outstanding Audio Quality with loud speaker(108dB)
Active Noise Cancelation suppresses feedback from other devices when in close proximity of each other. 
Outperform in harsh environment_MIL-STD 810H, IP67
Ergonomic form factor_Slim but still rugged
Secure Mission-Critical Operation

Dedicated APN for MCPTT QCI
eMBMS multicast call
MCPTT Latency KPI
Man Down Alarm

Made in Korea
Real-time video
communication Helps in enhancing
situational awareness in an emergency.
CM65 guarantees clear and stable communications

for public safety (i.e. security, fire fighting and emergency medical services)

and various industrial fields such as railways, ship building, heavy industries and logistics.
Download Product Brochure
CM65 is durable & shock-proven
and can be used with variety of accessories
PS-LTE Rugged PhoneSmartphone-type Handheld Device
for Mission Critical Network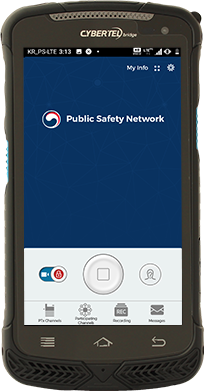 Dual USIM
Dual Standby
MCPTT Network
MNO Network

Verified durability in
extreme environment
(salt, frost, heat : -20℃~+55℃ of temperature, 95% of moisture)

Front-faced
Loud Speaker(108dB)

Programmable
Dual PTT Buttons
Main & Sub PTT Group
Ergonomic form factor

Light-weight(270g) but still rugged design brings comfort in day-to-day operation.
Large and intuitive two Push-to-Talk buttons located from each side offers the optimal user key selection.
Outstanding Audio quality

Qualcomm® Fluence Pro™ technology
The Fluence algorithm detects the speaking party position and consistent voice quality
with noise reduction by "Sound Focus" feature. It determines the best microphone channels automatically.
Cybertel makes PTT specific audio tuning with Qualcomm audio professional.
Active Noise Cancellation
MCPTT device gets echo noise from other devices in close proximity.
With Active noise cancelling technology in both CM65 and Cybertel MCPTT Application,
the device blocks echo feedback which generated within 5m proximity.
Mission criticl operatioin

Based on MCPTT knowledge and experience, Cybertel CM65 fully supports MCPTT QCI 69 for signaling,
65 for voice and 70 for data
USIM based device authentication for out-of-box use
Fully verified with eMBMS service with Qualcomm Snapdragon chipset
Man-down trigger
Scalable Interface

Car kit, stational cradle for dispatcher Variety of interfaces enabling interworking functions (USB-C, POGO Pin)

High-resollution Cameras

Front : 2MP or 8MP (optional) Rear : 13MP

Shock-proven Display

Tempered Glass (Gorilla Glass) 5-inch Full HD

High-efficient Battery

High-capacity battery can survive long operation hours. Locking structure prevents drops.

Wide Usability

Dual UISM supporting variety of networks Expandable storage with MicroSD CAR

Convenient Hard Keys

Dedicated PTT Key (Main / Sub channels) Emergency key helping penetrate emergency information Power / Volume / Function keys

High Durability

Dust & Water resistant Ruggedized for extreme and harsh environment

Loud and Clear Sound

High-powered dual speakers
Industry accessory
The vehicle kit consists of extended loud speaker as well as built-in RSM
A built-in docking station charges CM65 device
Supporting power voltage for versatile vehicle type
The motorcycle kit offers comprehensive communications such as built-in Speaker Mic, Dual loud speaker, extended PTT button as well as device charging feature.
10 Watt x 2 loud speaker inside
Locating extended PTT button on the steering so that the police can have floor control conveniently during drive
The helicopter kit consists of extended antenna to overcome network weak signal in the air.
Main and sub antenna each for PS LTE and Public network
The kit is mechanically compatible with ADS-33 (Flying Quality Standard Specification)
Mobile dispatching kit

Mobile dispatching kit

12 Bay Multi-charger

12 Bay Multi-charger

Desktop cradle

Desktop cradle

Remote Speaker Mic

Remote Speaker Mic
SPECIFICATIONS
Physical Characteristics
Dimensions

156.5mm(L) x 81.1mm(W) x 16.6mm(H)
Weight

269g with Standard Battery
Display

5.0 in. Full HD (1920x1080) Gorilla Glass 3
Touchpanel

Capacitive Touch Screen (Glove & Wet Touch)
SIM

2 USIM Slots
Power

Li-ion Polymer 3,720mAh / Standard Battery
Device charging voltage : 5V DC 1.7A
Power adaptor charging voltage : 5V DC 2A
Expansion Slot

MicroSD Card Slot up to 128GB
Notification

Audible Tone; Multi-Color LEDs; Vibration
Keypad

On-Screen Keypad
Voice & Audio

Dual Loud Speakers; 1.5W X 2
Data Capture
Scanner

1D/2D Imager (SE4710)
RFID

ISO15693,14443A/B
Camera

Rear - 13MP Auto-Focus / Front - 8 MP
PTT
Physical PTT Key

Programmable
Dedicated PTT
Speakers

Front - Located 3W Dual Loud Speakers
Wireless WAN Data & Voice Communications
Radio Frequency
Band

GSM : 850, 900MHz
WCDMA : 2100, 1900, 850, 900MHz
LTE : Band 1,2,3,4,5,7,8,14,20,28
GPS

AGPS, GLONASS, BeiDou
Performance Characteristics
CPU

Qualcomm® Snapdragon™(SDM660)
Operating System

Android 1 2
Memory

8G RAM / 128GB ROM
User Environment
Operating Temp

-20℃ to 60℃ / -4℉ to 140℉
Storage Temp

-30℃ to 80℃ / -22℉ to 176℉
Humidity

5% to 95% Non-Condensing
Drop Spec

1.5m / 5ft MIL-STD 810G
Sealing

IP67
Wireless LAN
Wi-Fi

IEEE 802.11 a/b/g/n
Wireless PAN
Peripherals and Accessories
Desktop Cradle, 4 Slot Cradle, Snap-on Charger, RS-232/ USB 3.1 C Type, Vehicle Mount, Hand Strap
Warranty
Standard Warranty (I Year)
Optional Comprehensive Warranty (Up to 5 Years)
Accessories
CM65

Left and Right Hard PTT Keys
Main/Sub-channel radio communication supported

High-capacity Battery

5,500mAh / 3.85V

Charging Adapter

Fast Charging Adapter (Quick charge 3.0)

Charging Cable

USB-C Type

Charging Cradle

Simultaneous Charging of Device and Battery
PTT Keys Available

Charging Cradle for High-capacity Battery

Simultaneous Charging of Device and Battery
PTT Buttons Available

Charging Cable for Cradle
Optional Accessories
Pouch Holder

Attachable to Molle Vest

A-type Speaker Microphone

Without Embedded Amplifier
CM65

상용망 전용
스마트폰형 LTE 단말기

Geofree

군 전용주파수
TDD-LTE 단말기

Thomas-100

열차무선시스템
검증용 LTE 단말기

Dolphin-100

해군 전용 스마트폰형
WiBro 단말기

Eagles-100

공군 전용 스마트폰형
WiBro 단말기